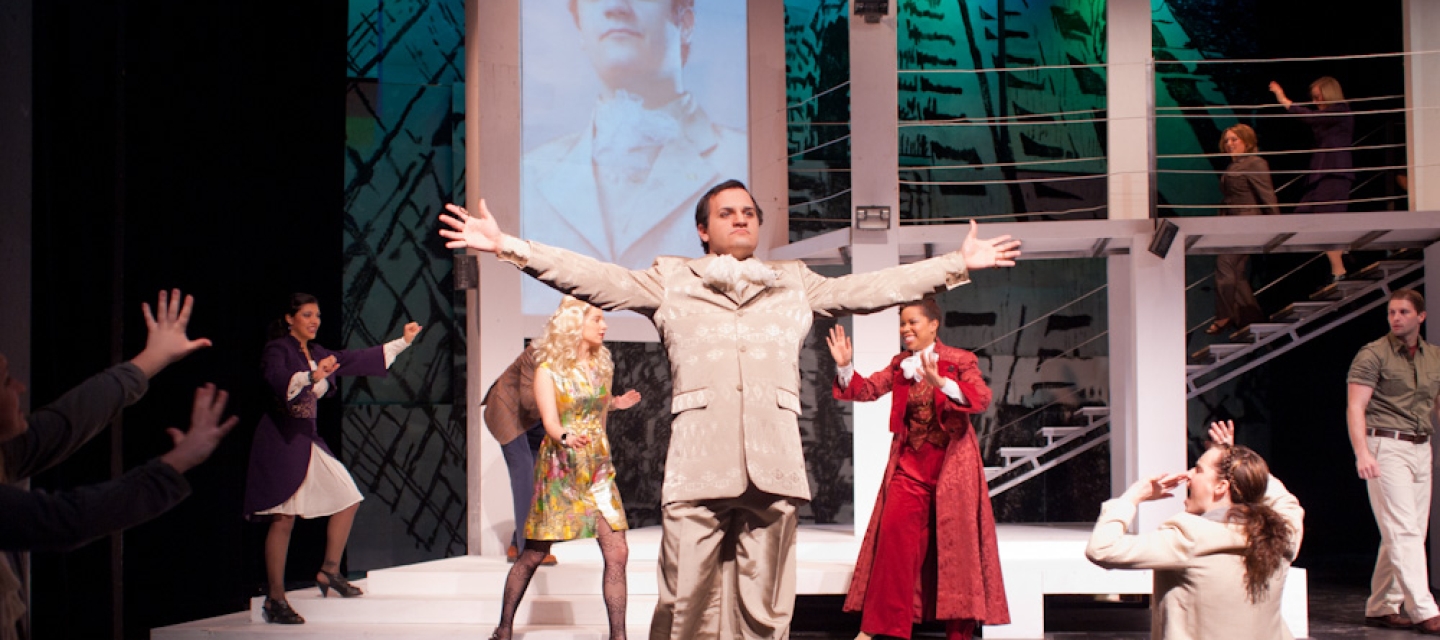 About
Our students are ambassadors of the imagination and rigor of the Theater Department's academic program and extracurricular activities. They are advocates for social justice, with a willingness to take risks and adopt leadership roles under the advisement of Theater Department faculty and staff.
Why Theater at Buffalo State?
Accreditation and Assessment
Accreditation
Our theater program has been accredited since 2005 by the National Association of Schools of Theater (NAST). NAST establishes national standards for undergraduate and graduate degrees and other credentials for theatre and theatre-related disciplines
Assessment
Programmatic assessment of student learning demonstrates that students have appropriate knowledge, skills, and competencies in their chosen discipline.
Assessment begins with a plan that clearly states learning outcomes for the program along with how and when these outcomes will be assessed on a continuous cycle. 
A curriculum map aligns these learning outcomes with required courses in the program that introduce, reinforce, and show mastery of the outcomes as a student progresses towards graduation.
Taken together, all of this information provides a basis for assessment of student achievement and continuous improvement.
Theater Program Assessment Rubric 2020 (PDF)
Our Mission
Strengthened by our unique urban setting and diverse cultural community, Buffalo State theater provides intensive individual artistic training supported by a robust liberal arts education. 
Our Vision
Through the vehicles of engagement, excellence, and social responsibility we strive to develop the next generation of globally impactful artists and citizens.
Theater Department History
Awards and Scholarships
SUNY Awards
SUNY Chancellor's Award for Excellence in Adjunct Teaching
Maureen A. Porter, M.A., 2021
Distinguished Service
Drew Kahn, Professor, 2018
President's Award for Excellence in Teaching
Drew Kahn, 2006
Equity and Diversity Special Program Recognition Award
Buffalo State Theater Department
Student Awards
Chancellor's Award for Excellence
2019: Zhanna E. Reed, Bachelor of Arts, Arts and Letters
2012: Gabriella Moreno, Bachelor of Arts, Arts and Letters
2008: LaToya E. Codner, Bachelor of Arts, Theater
Scholarships
The Lucille and Jack Yellen Scholarship in Dance,  Est. 2012
McCarthy-Eskew Scholarship for Theater, Est. 2007
Fay Northrup Theater Scholarship in Design, Est.2009
Horace Mann Theater Arts Student Scholarship, Est. 2012
Dr. Joseph A. Grande and Marguerite R. Grande Theater Scholarship
Donald Savage Scholarship for College Actors of Promise, Est. 2005
Terrence McDonald Theater Scholarship
Department Awards
Dean's Award for Excellence (for School of Arts and Sciences)
Mina Goossen Award
Michael Dominico Award
Donald J. Savage Award